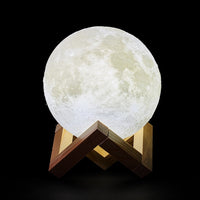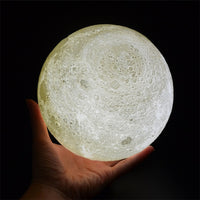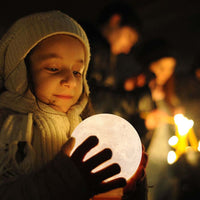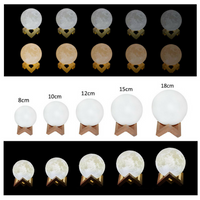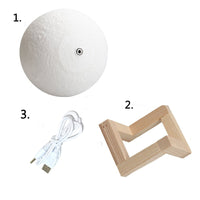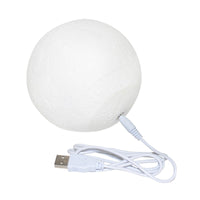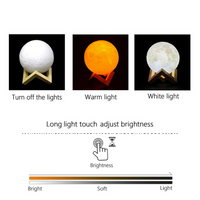 Laguna D&W
3D Moon Lamp - Lunar Night Light - LED Lamp with USB charging
Night lamp in shape of the moon. The perfect gift for Yourself as decoration in Your home or take this opportunity to "bring down the moon" for Your love.
Printed with 3D technology layer by layer for close resemblance to the real moon surface. The charging port and step-less/step-free adjustment of brightness are built in - no buttons and easy to use. Comes with a holder in wood, from which it is possible to lift and carry the cordless lamp anywhere and USB charging cable and of course a product user description.
Choose Your size in diameter cm/inch:
8 cm/3.15"
10 cm/3.94"
12 cm/4.72"
15 cm/5.91"
18 cm/7.09"
SPECIFICATIONS
Bulbs included: Yes
Type: Atmosphere
Shape: Round
Power switch: Touch
Batteries included: Yes, 240 mAh built-in
Certification: RoHS,CE
Body material: Plastic
Light source: LED Bulbs
Power source: DC
Battery type: None
Wattage: 0-5W
Voltage: 5V
Materials: PLA plastic, LED lamp
Battery capacity: 400 mAh
Brightness: step-less adjustment 
Endurance time: 8 - 30 h (based on brightness)
Charging time: 6 - 8 h
Charging mode: USB DC5V
Charging current: 1A
Using environment: 0 - 40 Celsius <75% humidity

Why Bag it with DAXION mall™?
We want it! And we give You many reasons to do it! Before we listed this offer, we checked competing offers. That's how we know we provide the best value to You with a combination of Price, Free shipping and Free returns for 30 days. Found a better offer somewhere else? Our Best Price Challenge gives You the difference back topped with a finders fee. That's how shoppers like You help us to keep the best price.

AND we want You to come back! That's why we care about Your experience and Your purchase. We even want You to share Your experience wherever possible so You can be sure we want to do everything we can for You. We only need a small favor. Please, Tell Us how we can help You, and how we can do better.
Now that You know You are at the place of the best offer, All You need to decide is if You like the product! If so - don't wait - buy now! 
PLEASE SHARE
Do You Know Anyone Who Would Like This? Please Share...
-
Moon night light LED lamp
-
Moon night light LED lamp
-
Moon night light LED lamp
-
Moon night light LED lamp
-
Moon night light LED lamp