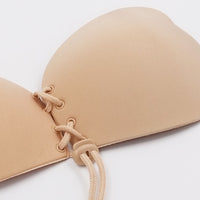 D by Stephania
LEXI - Push Up Bra with Laces - Black
The Secret Push Up Bra features skin-friendly adhesive cups to always stay in place, providing a secure fit all day long and can be reused multiple times, better care gives longer lifetime. The strapless design makes it invisible and perfect for backless and strapless gowns, low-cut outfits and dresses. The butterfly-shaped Secret Push Up Bra with its drawstring closure design will hold Your bust, creating a fuller and charming deep V shape cleavage.
The drawstring design makes the Secret Push Up Bra unique and allows You to adjust the depth, or level of push up, as You want. Everything will stay in place while You move freely. The silicone will work as an adhesive against Your dry skin and hold the breasts stable. The holes make the bra breathable giving You good comfort.
DAXION mall™ is presenting the Secret Push Up Bra to You, knowing it can be a very good compliment to many of our dresses for instance. We work to bring You more moments of the good life and we know the Secret Push Up Bra will bring exactly that to many women.
In researching this product, we found many similar products. A frequent issue with many was a large portion of poor reviews. We concluded that it is important that the buyer understand how to use and care for the Secret Push Up Bra to avoid disappointment. Also, should You need anything, we will be happy to help and advice on the use of the Secret Push Up Bra.
CARE ADVICE
 
For best results and to avoid disappointment, please see these pieces of advice:
Look at the video on this page, it shows how to use the

Secret Push Up Bra

.
Do not through away the plastic protectors, you need them.
Avoid using a towel or similar or place the adhesive side against clothing, as the lint will gradually clog the adhesive. If something does get onto the adhesive, carefully pick it up with Your fingers. Try to avoid clothing that sheds fibers easily.
Do not use a brush or fingernails or any other object to clean the surface. This will cause permanent damage to the silicone adhesive.
Don't clean with alcohol, bleach or any cleaning solutions. All You need is warm, but not hot, water and a mild soap.
Do not try to remove the adhesive, or You risk damaging the product.
Keep Your bra away from sharp objects to avoid puncture by accident.
Read this very valuable and good article How To Make That Stick-On Bra Actually Stick!
CAUTION
This product is not recommended for women with sensitive skin. Do not use on open cuts, skin disorders or skin burned by the sun.
OTHER COLORS
SIZE GUIDE
Available sizes: A cup, B cup, C cup, D cup.
SPECIFICATIONS
PLEASE SHARE
Do You Know Anyone Who Would Like This? Please Share...
Buen producto. Llegó muy bien embalado, tamaño perfecto. Buen acabado.
Reasonable price with a good quality, it took some time to reach KSA, but within the acceptable range.
Took a long time getting here. I guess its cause of the holidays. Its lovely. Can't wait to try it on
Llego al arrugado... Espero no note en mis prendas. Sin olor.. Llego en poco tiempo...bien embalado... Gracias.
Très beau et sans défaut, pas encore utilisé j'espère qu'il sera bien