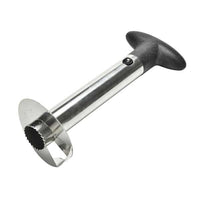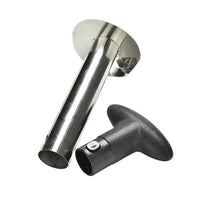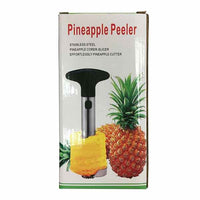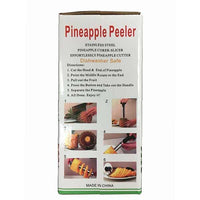 Laguna D&W
Pineapple Peeler | Stainless Steel Corer-Slicer Cutter
This Pineapple Peeler Corer will peel, core and slice a pineapple in seconds. Peeling pineapples is fun, quick and easy.
This Stainless Steel Slicer Corer works like a corkscrew, removing the flesh in perfectly formed 3" rings, leaving the core in the shell. The shell remains intact for use as a dessert or drink bowl.
COMFORTABLE

Peels, cores, and slices an entire pineapple in seconds
Detachable handle allows you to remove the sliced pineapple from the corer easily
Unique design allows both left or right-handed use
Ergonomically designed grip for handling comfort
EASY TO CLEAN

Stainless Steel and Plastic parts are dishwasher safe
PERFECT GIFT

yourself
hostess gift
friends and family
DURABLE

Made from high-quality stainless steel
Durable and lightweight construction
SPECIFICATIONS

DAXION mall™

Shipping & Delivery:

Fast Free Shipping to addresses in the United States. Expect delivery in 4 - 7 days.

Free Shipping to the UK, Australia, New Zealand, Canada, Russia, Europe, and Asia.
Expect delivery in 14 - 28 days.

Returns:

Free returns for 90 days.

Warranties:

Shipped from:

the United States or
China

MANUFACTURER

Intended for:

Pineapples from 1.25 to 2.5kg

Made in:

China

Color:

Black, Steel

Material:

Plastic + Stainless Steel

Care advice:
Dishwasher safe

Why Bag it with DAXION mall™?
We know we provide the best value with a combination of Price, Free shipping, and Free returns. Found a better offer somewhere else? Our Best Price Challenge gives you the difference back topped with a finders fee. That's how shoppers like you help us.

We care about you because we want you to come back. Please share your experience, and please tell us how we can help you and how we can do better.
You are looking at the best offer for this product. Add to cart now!
PLEASE SHARE with someone you think will like this!