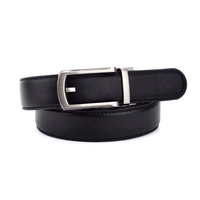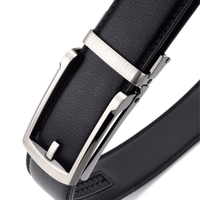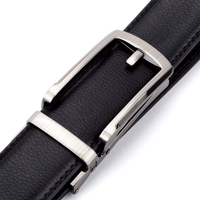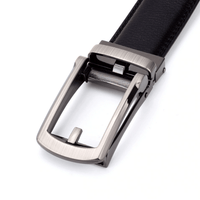 WOWTIGER®
MELVIN - Genuine Leather Ratchet Belt for Men - Automatic Buckle, No holes - Khaki, 35 mm
With this Automatic Ratchet Leather Belt You're no longer restricted to 1-inch size adjustments, but can get a perfect, superb, and custom-fit all the time!

No more holes — WOWTIGER®'s Ratchet Leather Belt Without Holes provides very smooth adjusting for an extremely comfortable fit.

Customizable — The Easy-to-Remove buckle allows you to use a scissor to cut the ratchet belt to your ideal size to give a primer and custom-tailored appearance!

Easy-To-Use — Slide the belt into the sliding buckle and pull the ratchet belt through. The belts buckle auto-locks the automatic belt. To release the belt, gently push the lever on the side of the removable buckle and the lock will snap. Simple, smooth, and sleek!

WOWTIGER® belts can be described as elegant form meeting practical function. The combination of expert design and high style is what makes WOWTIGER® belts distinctively fashionable and exclusive. WOWTIGER®makes extraordinary beautiful belts for beauty, durability, and function.
SIZE GUIDE
Q: How long should my belt be?
A: Please see this belt size table.
SPECIFICATION
Shipping time:

Free Shipping and Delivery.
The United States: Expect 10 - 20 days.
Worldwide: Expect 14 - 28 days.

Tracking code provided with all orders.

China

Warranties:

Manufacturer's warranty included + added 
Extended warranty by DAXION mall™ included

Brand:

WOWTIGER®

Material:

Genuine cow leather

Buckle width:

40 mm

Buckle length:

60 mm

Belt width:

35 mm
Why Bag it with DAXION mall™?
We want it! And we give you many reasons to do it! Before we listed this offer, we checked competing offers. That's how we know we provide the best value to you with a combination of Price, Free shipping, and Free returns for 30 days. Found a better offer somewhere else? Our Best Price Challenge gives You the difference back topped with a finders fee. That's how shoppers like You help us to keep the best price.

AND we want you to come back! That's why we care about Your experience and Your purchase. We even want you to share Your experience wherever possible so you can be sure we want to do everything we can for you. We only need a small favor. Please, Tell Us how we can help you, and how we can do better.
Now that You know You are at the place of the best offer, All You need to decide is if you like the product!
If so - don't wait - buy now! 
PLEASE SHARE
with Anyone Who would like this!