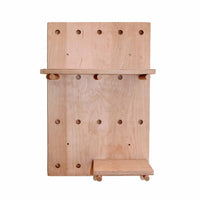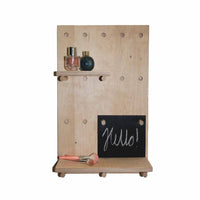 Fanerista Design
Wooden Birch Plywood Pegboard 16x24 - Two Shelves Set
Need more storage? With this Wooden Birch Pegboard 16x24 - Two Shelves Set, Fanerista Design adds natural beauty to Your home, not only storage. Because it looks good too, You can give it prominent locations in Your home.
Walls. That's where You usually have a lot of space ready to be utilized for storage. Our Wooden Birch Pegboard 16x24 Set with two shelves is the perfect proof of how space can be added for storage on a wall. Its great in any room in Your home, but popular places are the kitchen, bedrooms, Your foyer or entryway.
Designed by Fanerista Design the Wooden Pegboard makes perfect for getting organized and keep items close at hand. Its great next to Your workshop bench but serves just as well in the bathroom or office. This shelving system is customizable, You can move the pegs and shelves around as You need.
Unique. Clever diagonal edge design gives our Plywood Pegboard a unique and light impression, once on the wall.

Flexible. Two shelves held by 5 pegs are movable between the 20 holes, giving You maximum flexibility and a wide variety of customization options.

Sturdy. The thick 3/4 inch shelves and pegs can hold clothes and plant pots.
Untreated. Because this Plywood Pegboard is untreated, You can paint it in any color if You want. Or not, You decide. Here is one painted in black.

System. This 16x 24 Pegboard Set is part of the Fanerista Design Pegboard Series, meaning You can add more accessories - as You need. There is a growing number of accessories available. 
Modular. Add several Pegboards next to each other. You can build a whole wall with many of them or use it by itself.

Display. Add some natural ambiance to Your Shop, Cafe or Restaurant. Our designer Wooden Pegboard Series is a great tool for the display of your products or propping.
This Wooden 16x24 Pegboard Set makes the excellent home decoration in Your kitchen, in Your bedroom, bathroom, hall and even in some outdoor spaces. It's easy to install and personalize. Order Yours Today.
Why Bag it with DAXION mall™?
We want You to! And we give You many reasons to do it! Before we listed this offer, we checked competing offers. That's how we know we provide the best value to You with a combination of Price, Free shipping and Free returns for 30 days. Found a better offer somewhere else? Our Best Price Challenge gives You the difference back topped with a finders fee. That's how our shoppers help us to keep the best price.

AND we want You to come back! That's why we care about Your experience and Your purchase. We even want You to share Your experience wherever possible so You can be sure we want to do everything we can for You. We only need a small favor. Please, Tell Us how we can help You, and how we can do better.
Now that You know You are at the place of the best offer, You need to decide if You like the product! If yes, don't wait, buy now.
Fanerista Design
Fanerista Design is a new and independent design brand from Finland. The designer couple, Maria and Simon Sundvik, lives near the nature outside a small coastal town, Nykarleby.

"Working with wood, has always been natural to me", says Simon. "Maybe it originates in my passion for being in the forest. Letting my lungs fill with fresh air and enjoy the scent of nature, gives energy and inspiration.", he continues.

Fanerista Design stands for sustainability and a clean environment. "By using our wooden design products, You get a small piece of the Scandinavian nature in Your home.", Simon states.

Simon explains, "To keep the natural feeling of wood as close as possible to You, we use untreated natural materials. As an example, the Fanerista Design Pegboard Series, are made from untreated birch plywood, leaving the wood surface close for natural touch and feel. Intentionally, this is an open-ended design approach, leaving it up to You to continue - if You like."
SPECIFICATIONS
DAXION mall™
Delivery:
Expect 7 - 14 days to addresses in the USA, Europe and the rest of the world.
Free Shipping & Delivery
International delivery available
Returns:
Free returns for 30 days
Warranties:

Manufacturer's warranty + an additional
Functional Warranty by DAXION mall™

Shipped from:
Finland, Europe
 
MANUFACTURER
Made in:
Finland, Europe
Brand:

Fanerista Design

Model:

Plywood Pegboard 16x24

UPC:
Material:
Finnish Birch Plywood with pegs in solid
Finnish Birch Wood. 

Natural, untreated.

Color:
Birch
Measurements
Board:
In inches H 23.62 x W 15.75 x D 0.71
In mm H 600 x W 400 x D 18
Large shelf:
In inches L 14.96 x W 9.84 x D 0.71
In mm L 380 x W 250 x D 18
Small shelf:
In inches L 8.27 x W 5.91 x D 0.71
In mm L 210 x W 150 x D 18
Pegs:
In inches Diameter 0.71 and Lenght 6.69
In mm Diameter 18 and Length 170
Package content:

1 x Fanerista Design Plywood Pegboard
1 x Large shelf
1 x Small shelf
5 x Pegs

Weight:

7.7 lb
3.5 kg
The Fanerista Design Plywood Pegboard 16x24 makes the excellent home decoration in Your kitchen, in Your bedroom, bathroom, hall and even in some outdoor spaces. It's easy to install and personalize. Order Yours Today.
PLEASE SHARE
Do You Know Anyone Who Would Like This? Please Share...